PRINTING REPORTS:


HN lets you use optionally external third party programs (text editor / print spoolers) to edit and print reports. The reports can be sent to a printer using either the Print Spooler (WinPrint or any other spooler that can monitor files in a folder) or a text editor or Windows in-built Notepad. WinPrint is a free third party utility program (freeware under GPL) and similarly you can use any one of the free text editors like TED Notepad, Akelpad, Winvi, Abiword, Rough Draft etc. You can use any compatible commercial text editor / print spooler if you have your own. For more details, please read "status of freeware invoked by HN" under "Home option" of this help file. In the system settings, define your custom text editor if you intend to use it. If you don't have these freewares, you can download some of them from our website. Place the exe file of your text editor in the application directory for the program to invoke it. We recommend that you give TED Notapad / Akelpad / Rough Draft / Abiword a try. Rough Draft and Abiword are not simply text editors. They are word processors. You can decorate your report with them. The binary file of the text editor must be placed in the HN folder or available as per the path defined in the settings option of HN. For example, if you use TED Notepad, then its exe file is tednpad.exe. This file name should be entered in the "text editor file" option in the "Settings" option of the program HN. Other files associated with the text editor (if it comes with them) should also be place in the same folder. The file name of the text editor should be 8 characters or less than 8 characters long (excluding extension exe). It it is not, then rename it to make it <=8 characters.

By default, when you load the program, the default print spooler as defined in the "settings" option is loaded. (You can change the default spooler program by specifying its file name in the "settings.") You see its icon in the task bar at the bottom. You can set the various parameters of printing using the Configuration option of the spooler. You need to configure your print spooler first. It must be configured to monitor .rep files which are report files generated by HN. For example, in WinPrint, to do this right click on the spooler icon and then select configuration. A standard configuration comes pre-defined and you may not require any change. The configuration uses default printer to print or you can specify the printer of your choice. It is important that you have selected the correct printer so that the spooler can use it. Save your spooler configuration. If you find the print size small when printing through the spooler, please enter the spooler configuration --> select page settings ---> select font option and change the size to say 12. the print spooler automatically selects your default printer which you can change in the configuration. You can also select a PDF Driver printer for e.g. PDFredirect (if you have already installed it) in the configuration to directly generate report in the PDF format.The use of print spooler is optional. It is invoked to extend the functionality of Head Numerologist. It is recommended for correct formatting and printing of the report. When you quit the application HN, the spooler remains active. You can exit it by right clicking on the spooler icon and selecting "exit." If you run HN again when the spooler is still active in the task bar, you will be asked to load another copy of WinPrint the spooler. You should press "NO" otherwise the result may be unpredictable when you print report using it.

You can also print using an external text editor of your choice. In that case, the report is loaded by the text editor and you can then edit / save / print it.
Windows in-built Notepad can also be used to print the report.
The choice of your printing method i.e. spooler or text editor or Notepad is defined in the System Settings option already described. When you generate a report and use TEXT EDITOR OR NOTEPAD as the output then you must close the text editor or notepad after saving / printing or viewing your report in order to return control to the application.
NOTE: if you are using freeware version of HN, your print spooler may not work everywhere.

See the images of print spooler. Do not play with its settings or you may render it unsuitable for printing.
See
the print spooler icon on the task bar below and the configuration options for winprint as an example.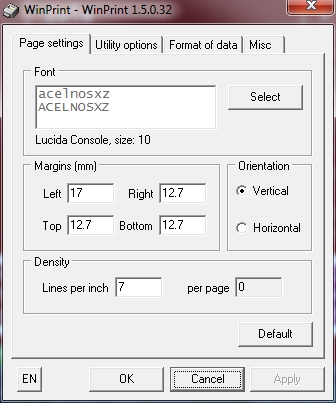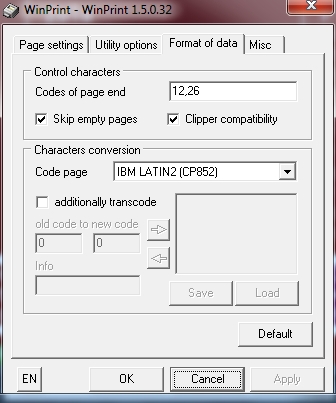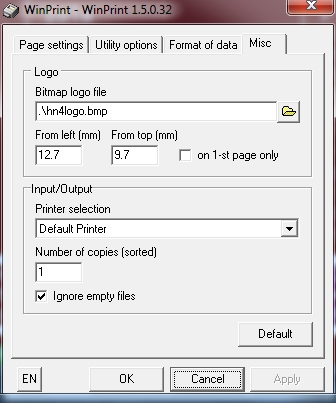 HEAD NUMEROLOGIST PRO Vs HEAD NUMEROLOGIST FREEWARE


Head Numerologist PRO is full functional and comes with a database of :

INDIAN NAMES - MEN (with meanings) : 2700
INDIAN NAMES - WOMEN (with meanings) : 2500
ENGLISH NAMES - MEN (with meanings) : 535
ENGLISH NAMES - WOMEN (with meanings) : 450
ENGLISH NAMES (MIXED) (with meanings) : 4535
ENGLISH SURNAMES : : 10,000

EUROPE LOCATIONS : 1400
AMERICA NORTH LOCATIONS : 922
AMERICA SOUTH LOCATIONS : 368
AFRICA LOCATIONS : 711
ASIA LOCATIONS : 803
AUSTRALIA LOCATIONS : 138
INDIA LOCATIONS : 670
FODD ITEMS : 500

You can add, edit and delete any item, location, name etc. in the database.

Freeware does not let you use such large database and a limited no. of records can be added.
In HN freeware ver 5, there is NO date range limitation for date of birth and NO expiry!
In freeware version, upto 25 records can be added or displayed in persons database and upto 40 records in each database viz. names, locations, and food. After 25 or 40 records, as the case may be, you will need to delete an old record to add a new one. PRO version has no such limitation.
Print Spooler and TextEditors options are not available to print main numerology forecast report in freeware. Other reports can be printed using print spooler and text editor of your choice. Only Chaldean and Pythagorean number systems can be used in freeware even if you might change and select other systems in the settings. PRO lets you use user-defined alphabet values stored in as many sets as you like.
HEAD NUMEROLOGIST PRO HAS NO LIMITATIONS. Please upgrade to PRO to tap the full potential of HN. Upgrade and Registration is very easy. Find more here.


If you are already a PRO user
and want to upgrade to HN 5, then the upgrade is 100% free. Mention your purchase details and use your original email to send the vol. number in order to upgrade.

ENLARGE SCREEN SIZE


IN WIN XP

YOU CAN HAVE FULL SCREEN OPTION ENABLED TO VIEW THE APPLICATION FULL SCREEN

PRESS ALT + ENTER TO TOGGLE FULL SCREEN MODE OFF AND ON.

To make it a permanent feature, run the application, click on the top left icon on the title bar, and select FULL SCREEN MODE. SAVE AND THIS WILL INCREASE YOUR WINDOWS SIZE FOR THIS PROGRAM.

YOU MAY NEED TO REPEAT THIS PROCESS ON THE APPLICATION SHORTCUT ICON ON THE WINDOWS DESKTOP.

IN WIN 7 / WIN VISTA / WIN 10

Run the application HN 5. Open the system menu by clicking the little button on the left hand side of the title bar of HN.
Select Properties, then activate the FONT TAB.
You can make it bigger by choosing a larger font size. Now select the Lucia Console AND font size 20 OR MORE On WIN 10, you may need to type 36 or 38 as font size for increasing the application window size. In WIN 10, you must Check "Use Legacy Console" under Properties to use the application properly. Please see the important note under system requirement for Win 10. The working window will enlarge in response to the font size change. Click OK. This process can also be exercised for WIN XP.
WIN7 Images are below:
IMPORTANT: ENTER YOUR NAME CORRECTLY:

First you must enter your name. Your name can be entered up to 3 parts. You cannot leave the first part blank; minimum one character is required to enter the name. Enter your most popular name. Let us say your name is ARVIND MOHAN then

in the first name, type : ARVIND
in the second name, type : MOHAN


If your name is say T.N. VERMA, then

in the first name, type : T
in the second name, type : N
in the third name, type : VERMA

DO NOT WRITE T N VERMA in one go i.e. in the first name.
If you do, you may not get correct Compound Number.
If you are known by your popular name, say RAJU then
in the first name, type : RAJU


Surname if applicable may be entered in the 3rd part only. 2nd and 3rd parts can be left empty if applicable. Some surnames are written like McAdams, MCafee,McDonald etc. In such cases, You should enter MACADAMS, MACAFEE, MACDONALD. In other words include "a" in your calculations.


At the bottom of the screen is displayed a message. Follow it carefully. All other fields are self-explanatory
because of the online messages at the bottom of the screen. Date of birth is a must. It can not be left empty.



TWO SUN-SIGN SYSTEMS:

You are also offered to choose the

SAYAN SYSTEM (WESTERN SYSTEM) OR NIRAYAN SYSTEM (INDIAN SYSTEM ) for ascertaining your SUN SIGN and ASTROLOGICAL NUMBER. Usually SAYAN system is followed everywhere and this has been made the default system.

For comparison the SAYAN and NIRAYAN dates are given below:

----------------------------------------------------------------------------------------------------
SUN SIGN SAYAN SYSTEM NIRAYAN SYSTEM
(WESTERN ) (INDIAN )
----------------------------------------------------------------------------------------------------

ARIES March 21 to April 20 April 13 to May 12

TAURUS April 21 to May 20 May 13 to Jun 14

GEMINI May 21 to June 20 Jun 15 to Jul 15

CANCER June 21 to July 20 Jul 16 to Aug. 16

LEO July 21 to August 21 Aug. 17 to Sep. 16

VIRGO Aug. 22 to Sep. 22 Sep. 17 to Oct. 16

LIBRA Sep. 23 to Oct. 22 Oct. 17 to Nov. 13

SCORPIO Oct. 23 to Nov. 22 Nov. 14 to Dec. 14

SAGITTARIUS Nov. 23 to Dec. 20 Dec. 15 to Jan. 13

CAPRICORN Dec. 21 to Jan 19 Jan 14 to Feb. 13

AQUARIUS Jan. 20 to Feb. 18 Feb. 14 to March 13

PISCES Feb. 19 to March 20 March 14 to April 12

--------------------------------------------------------------------------------------------------------------




CAUTION ABOUT REMEDIAL MEASURES:


In the NUMEROLOGY FORECAST, you are advised to undertake a few
Remedial Measures (Upayas). It is entirely your discretion and decision as to undertake them or not. We at <http://www.astroccult.net/> are NOT RESPONSIBLE for any gain or loss incurred by any person,
any where, any time through the use of these Upayas or Remedial Measures. Do not undertake more than 1 upayas on one day. All remedies are to be undertaken after sun rise and before sun set.

Do not repeat upayas often. IT IS ADVISABLE TO CONSULT A COMPETENT ASTROLOGER / NUMEROLOGIST BEFORE YOU UNDERTAKE TO PERFORM A REMEDIAL MEASURE (UPAYAS).




SUGGESTIONS & PRECAUTIONS

1. For complete mouse compatibility, please use any on-Screen keyboard. For example, in Windows XP, there is A utility file OSK.EXE. Please run it, from the start> run
Option. This loads the on-screen keyboard which you can Navigate with your mouse and even enter text with it. Or you can use any other virtual onscreen keyboard.

2. Make a backup copy of the package. In case your files are corrupted due to virus or any other reason, you should
be able to copy again all the files.

3. Do not tamper with any file; this may render your software useless or incorrect. Complex calculations are
involved in the files. So you should be aware of the risk.




RUN YOUR HN APPLICATION FASTER (applicable to HN version <=4 only)

If you find or feel that the application is slow and takes more time to process an action, then you can make it work faster
by adopting this procedure for once only:

In the application folder where you have installed the application, there is a file HN_BOOK4.EXE. Locate this file and right click on its icon. Then click the Properties tab and set the values of various fields under MEMORY as shown in the image below. This will load and run the application faster.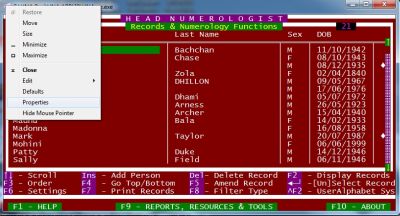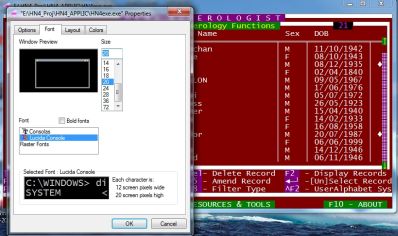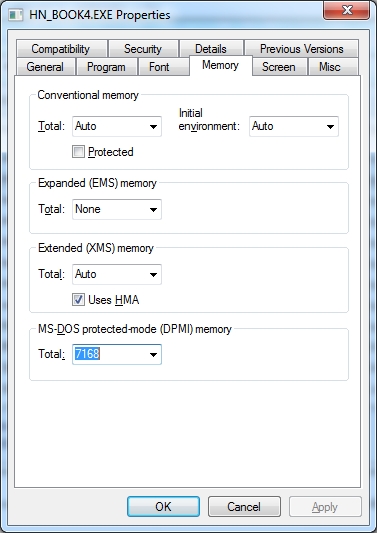 ALPHABET SYSTEMS AND NUMERICAL VALUES


According to numerology, the most important influence in a person's life is cast by the numbers from the date of birth as well as the unique number from the name which is calculated on the basis of the alphabet system followed.

There are different schools of Numerology and different numerologists that have assigned different numerical values to alphabets based on the system or method they follow and consider most effective.

Given below are the numerical values assigned to various alphabets by some of the most respected numerologists and numerology schools.


1.

The following Numerical values are followed by the world famous numerologist Cheiro (1886-1936) (Count Louis Hamon). In his books "Cheiro's Book of Numbers" he gave numerical values for the English alphabet. This method is known as Chaldean school. This system does not assign number 9 to any letter because in this system number 9 is considered to be the most sacred of all numbers. Its vibratory force include the attributes of all numbers and therefore, does not represent any particular alphabet.




CHALDEAN TABLE

1 2 3 4 5 6 7 8 9

A B C D E U O F -
I K G M H V Z P -
J R L T N W
Q S X
Y



2.

PYTHAGOREAN TABLE (English Table)
(Modern Western Numerology System)

1 2 3 4 5 6 7 8 9

A B C D E F G H I
J K L M N O P Q R
S T U V W X Y Z



3.

KABBALAH TABLE

0 1 2 3 4 5 6 7 8 9 10 11 12 13 14 15 16 17 18 19 21

Y V B C D E X F G H I J L M N O P R S T A
W K Z U
Q



4.

PYTHAGOREAN TABLE (OLD)

1 2 3 4 5 6 7 8 9
A B C D E F G H I
K L M N O P Q R S
T U X Y Z J V Hi Hu
w


5.

In the Hebraic system, a different set of numerical values is assigned to alphabets.


HEBRAIC TABLE

1 2 3 4 5 6 7 8 9
A B G D E U O H Th
I C L M N V Z F Tz
J K S T W P
Q R X Ph
Y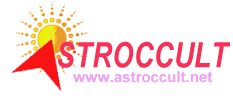 ORDER HEAD NUMEROLOGIST


To tap the full potential of HEAD NUMEROLOGIST, please upgrade to PRO version. The PRO version has no limitations.

To visit the ORDER PAGE direct click this link: http://astroccult.net/order_hn.html

To visit the product home page, click this link: http://astroccult.net/download.html

To visit the price-list page, click this link: http://astroccult.net/pricelist.html


Note: You can pay for your order by PayPal which is an internationally trusted payment gateway. Paypal accepts all major credit cards and bank accounts. You can use other payment options also. Click to learn more about payment options.
Head Numerologist: Help and Support

Others

Now available version 5