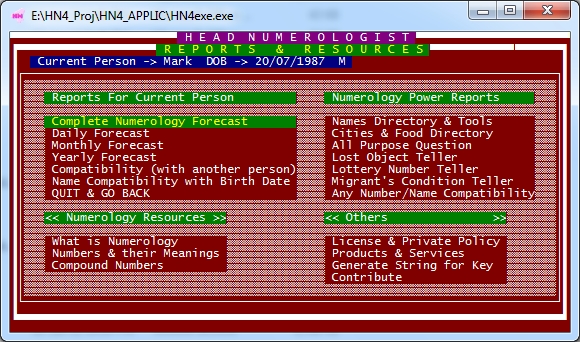 REPORTS AND RESOURCES : F9 KEY

When you press F9, then the current highlighted person is taken for report generation. The following reports
are available for selection
Complete Numerology Report : This generates the complete report for the current person

Daily Forecast / Monthly Forecast / Yearly Forecast for the current highlighted person

Compatibility with another person : To use this option, atlease two records must be selected and the first two selected records are taken for report generation. Before, pressing F9 to go to "Reports and Tools" please ensure that two records have been selected and you one of the selected record is highlighted at the time of pressing F9.

Name Compatibility with Birth Date : This feature helps a person to know idf his name is compatible with his birth date. While birth date can't be changed, name can be. So if your name is not compatible, then you can try different name acc. to your liking and change your name if it is compatible.




NUMEROLOGY POWER REPORTS:


These are a few powerful reports and tools described below.


Name Directories and Tools
. Names have been compiled for easy selection and compatibility. HN pro provides hundreds of names with their meanings in the database. Inside the names window many numerology tools and functions are available. You can add / delete / edit any number of records.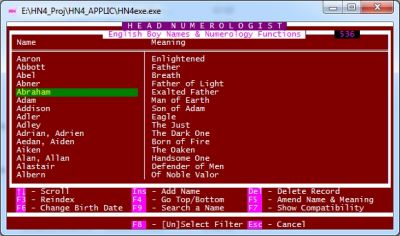 You can find the compatibility of a name with your or any date of birth. You can select the name for yourself, for your child, friends, relatives and clients etc. For example, if the name is Abraham, and date of birth is 20 july 1987, then the result shows compatibility. you can select any name or date of birth for compatibility. A powerful feature is that you can filter records according to your specified number. for example if you want to see names having 5 number value, then just filter the records using F8 key. This feature has high practical value: suppose number 3 is a compatible number to DOB of yours / your spouse / son / daughter / friend / relative / customer, and you want to select a suitable name, then use this function.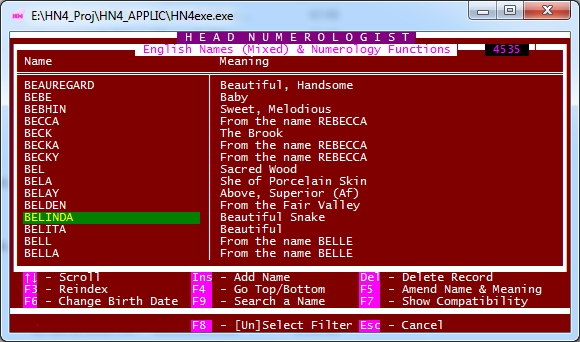 Cities and Food Directories:

Cities of the world are also given classified for easy locations. You can add / edit / delete any number of cities. Find which location is suitable or favourable to your name and date of birth numerologically.
Food items are listed separately you can find out and make research which food is good for you numerologically.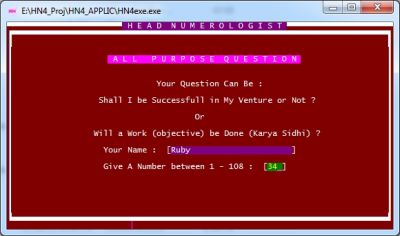 All Purpose Question:

This feature lets you find the the answer to a question which is almost all-purpose. For example, you want to know if you will be successful in a venture, exam, or activity or to put it differently, whether you will achieve your aim or particular objective.

To get your anser, close your eyes, remeber your question precisely and concentrate on it. then, remenber your Lord or Guru or God and pray to HIM to let you have answer, then give a number between 1 to 108, enter it and get your answer in yes or no.

Don't fiddle with this or just try to test its truth. You should have a strong urge to know the answer.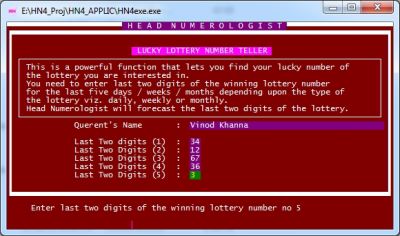 Lucky Lottery Number Teller:

Enter the last two digits of winning lottery number for the last five days/ weeks/ months,/ years depending uponnthe type of the lottery. The last two digits of the winnning number will be predicted by HN.
How is the Migrant Faring:
If there is a migrant to a distant country, and you want to know his / her condition, use this feature. Give a number between 1 to 108 and have your answer.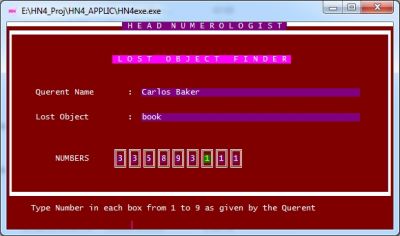 Lost Object Finder:

If an object is lost or misplaced or stolen you can find its whereabouts using this feature. HN will give a clue to its present status.
Just enter 1 to 9 number in each of the 9 boxes and have your answer.
Any Name / Number Compatibility

Thsi tool lets you find the compatibility of any name be it company name, firm name, house name, trademark, brand name, ship name etc or a number which cvan be vehicle number, roll no, plot no, house number, phone number, license number, registration number, seat number etc. with your name and birth date. You name can be any and birth date can also be any.

In the first field, enter the name of the querent, then his/her date of birth then the object type which can be vehiclwe, car, company etc. and in the last field, enter the name or number of the object. The result button will let you have the reult.

RESOURCES


You can also learn numerology with the help of information and knowledge provided

Find out What numerology is and what numers including compound numbers stand for. This info can be had by clicking the Resources options in the Reports Menu. For more resources, explore
www.astroccult.net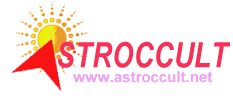 ORDER HEAD NUMEROLOGIST


To tap the full potential of HEAD NUMEROLOGIST, please upgrade to PRO version. The PRO version has no limitations.

To visit the ORDER PAGE direct click this link: http://astroccult.net/order_hn.html

To visit the product home page, click this link: http://astroccult.net/download.html

To visit the price-list page, click this link: http://astroccult.net/pricelist.html


Note: You can pay for your order by PayPal which is an internationally trusted payment gateway. Paypal accepts all major credit cards and bank accounts. You can use other payment options also. Click to learn more about payment options.
Head Numerologist: Help and Support

Others

Now available version 5